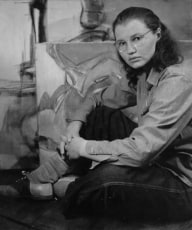 Van Doren Waxter represents the Estate of Zoe Longfield
Van Doren Waxter is delighted to announce exclusive representation of the Estate of Zoe Longfield. A daring and inventive first-generation Bay Area Abstract Expressionist—and one of the first women active in the movement—
Zoe Longfield (1924–2013) produced a radiant, lyrical body of abstraction characterized by experimentation and innovation. Critically appreciated in the late 1940s, this announcement coincides with a renewal of critical interest in the artist.

This fall, Van Doren Waxter will include a structured, rhythmic abstraction made by the artist with expressive brushstrokes in a sweeping historical installation of gestural work created in the year 1950 by Richard Diebenkorn, Jack Tworkov, Hedda Sterne, and James Brooks at Independent 20th Century in New York. The gallery will also include a suite of vibrant and colorful late 1940s paintings on paper in its stand at Frieze Masters in Regents Park, London. In 2024, the artist will receive a solo exhibition at Van Doren Waxter's 1907 townhouse accompanied by a fully illustrated catalogue and new scholarship.

In a body of work lasting only a decade, Longfield's indelible contributions to 20th century art range from her rich, thickly painted pictographic compositions with their totemic symbols and vigorous brushwork in the late 1940s that gave way to softer and luminous abstractions in thin washes of color by 1950.

"Independent," asserted the late curator, art historian, and Bay Area Abstract Expressionism authority Susan Landauer in the landmark Women of Abstract Expressionism (Yale University Press, 2016), which includes a reproduction of a 1948 oil on canvas in which Longfield uses thin, diaphanous washes of greens and blues to create a mesmerizing, biomorphic composition. Art critic R.H. Hagan, writing in 1949, enthused in the San Francisco Chronicle that "of all the numerous artists who have taken up the new credo of arbitrary (or spontaneous) expression in unrestrained colors and unrestrained shapes…Longfield impresses me as one of the most successful."

As a young painter at the University of California, Berkeley, Longfield studied with the founders of the Berkeley School of Abstract Expressionism, including Margaret Peterson, John Haley, and Erle Loran. She later attended the California School of Fine Arts 1947 to 1949, where her work was influenced by Clyfford Still, Richard Diebenkorn, Edward Corbett, and Mark Rothko; the artist is the only woman in a 1948 historical photograph taken by William Heick. Landauer adds that Longfield "became one of the few women Still admitted into his inner circle," but, she adds, "of greater significance is the role Longfield played in establishing the artist-run Metaart galleries, the forerunner of a series of underground venues that would flourish in San Francisco during the 1950s." The artist abandoned painting in 1951.

"We are thrilled to embark on a collaboration with the Estate of Zoe Longfield to continue the rediscovery of this unique and enigmatic artist," said Elizabeth Sadeghi, Partner at Van Doren Waxter, "and we will work to create a new and broad awareness of her and her adventurous and striking output. We are grateful to David Keaton, Modern Art West for his astute insight in recognizing the importance of Zoe Longfield's work and for his ongoing support and collaboration."